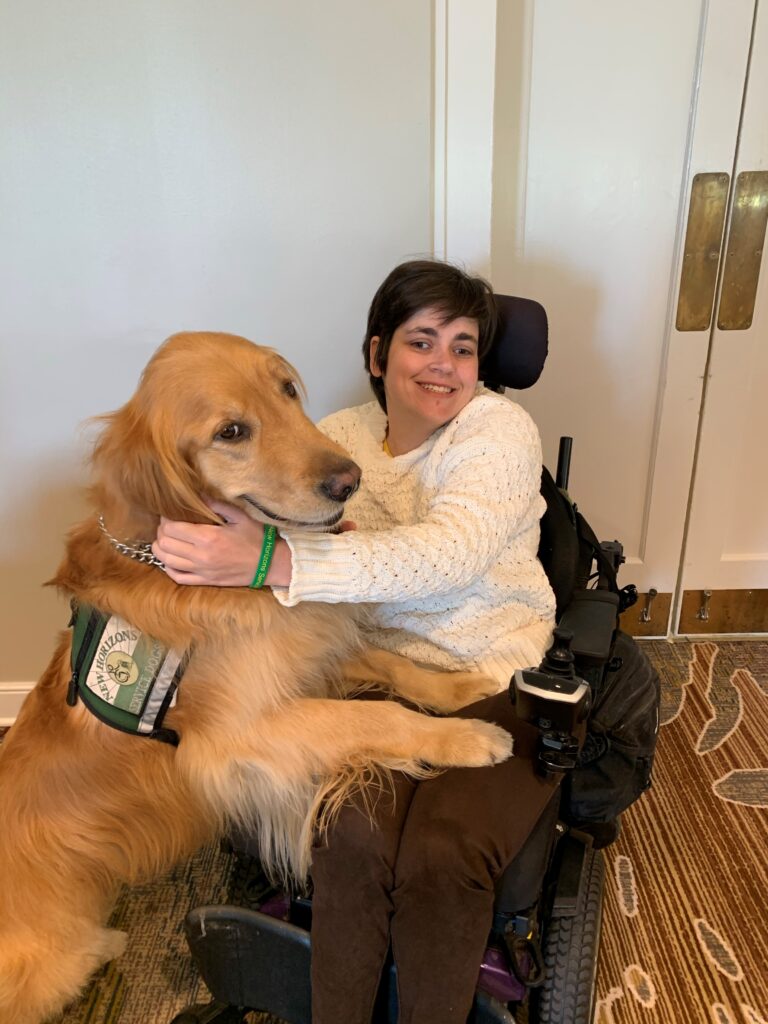 The world right now is in so much Chaos and turmoil. Everywhere you turn in the media or in daily life it always seems as though the "negative aspects" are given a "brighter light" than all the positive amazing contributions that are going on in the world! And there are so many!
One of those amazing contributions is an organization like New Horizons Service Dogs. Their organization and all those involved have completely transformed my life, not only one time, but two!  I have been a client of theirs for 13 years!
When I began my journey to get a service dog I had no idea just how much my dogs would change my life. I have had spastic quadriplegia Cerebral Palsy (CP ) since the moment I was born.
I quickly had to become accustomed to figuring out day to day tasks on my own or with the help of my family members, often times I would sustain injuries, having to do daily living tasks on my own.
As the years progressed the idea of going to college alone crippled me with fear and anxiety, and quite honestly, severe depression.
I felt trapped in a world that was not built for me. I longed so much for independence, for autonomy and to be viewed as a worthy individual in an ableist society!
Yes I know, that's quite a tall order! However, that's where New Horizons Service Dogs stepped in and made that unattainable goal a reality. I wanted to go to college, but knew I could not do it alone. So, two weeks after starting college 3 hours  away from home I got the call that all service dog handlers dream of! I was placed with a dog!  I didn't know it at the time but that dog ,  my first service dog Wizard , or Wiz as we all call him, was everything I never knew I always needed! He was my angel!
With him by my side. I was able to attend college earning a BA in Theater. We then went through graduate school together getting duel degrees in Arts Education and Drama Therapy for Special Needs Students. He taught right by my side and helped me not only accomplish my dreams, but he also served as an angel for my special needs students. For the first the first time I was able to live life free and independent. He was always there to pick up a dropped item, grab my phone in an emergency, help me in the grocery store by paying for items when the counters were too tall! And so much more! He was my comfort when the physical and mental pain was too much, he was my secret keeper and my confidant and my right hand man!
He and I had 11 wonderful years together before he retired! They were some of the most meaningful 11 years of my life, and last month I was able to celebrate his 13th birthday as the best gift I was ever and would ever be given!
Shortly after his retirement, I was blessed enough to be placed with my successor dog (2nd dog) Winchester. Just like my first dog, he has filled my life with so much joy, a calmness, a peace, a sense of security and indescribable independence!
Although he's got some big shoes to fill, he goes above and beyond for me every day! He gives me a reason to get up in the morning!
And much like Wiz, he's there when I need something picked up, and handed to me. He helps me around the house picking up unreachable items opening and closing drawers, turning lights off and on, and he is an expert at " blanket" a command that uses deep pressure therapy to ease chronic pain and anxiety associated with my condition.
Also like Wiz, he is my best friend, my secret keeper, my side kick and protector!
When not in a worldwide pandemic, he performs commands in daily life  that help me to keep my anxiety in check while in public. He is always blocking me from strangers and keeping a watchful eye on our surroundings.  We have nicknamed him the "people watcher"  and like Mr Wiz, he's always up for adventure and spent months with me teaching theatre  in Canada to the special needs community.
New Horizons has given me a sense of purpose and independence I would have never thought possible!
They helped me gain confidence to live a life that I could have never dreamed of!  I know with my dog by my side anything is possible!
These are crazy times in the world! We are all uncertain of what the future holds, and that is down right terrifying at times.
But I can tell you with 1000% certainty, that the world needs New Horizons and the wonderful work that they do for the differently abled community. The world would be a much darker place without them and the independence and comfort they provide to so many.
Much love and light,
Andrea, Wiz and Winchester