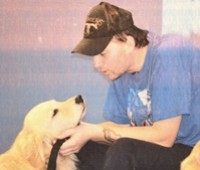 Senior Airman Doug Schwartz was injured during the Desert Storm in 1995. During his deployment in Dhahran, Saudi Arabia, he was responsible for transporting troops and supplies from the Air Force housing complex to the Air Force base.
His injury occured while unloading provisions. The load had shifted during transport; upon opening the truck doors, heavy crates fell directly onto Doug's head. He suffered a TBI and severe back injury with such extensive nerve damage that he lost his ability to walk and has been a wheelchair user as a result.
In spite of the chronic pain and ensuing depression, his ourlook is positive. Doug participates in marathons with the Achilles Freedom Team of Wounded Veterans; his adaptive sports specialities include hand cycling and downhill skiing. He is also an avid animal lover, devoting his time and energy to raising and training his 3 parrits and his service dog, Cabernet.