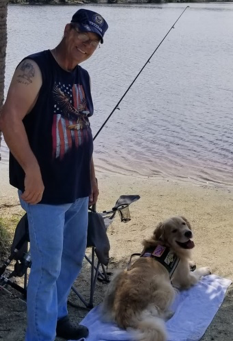 I'm Gary and my amazing dog is Jetty. I am a navy veteran. I suffer from PTSD,TBI, COPD. and a few other things. If you know me, you know how hard this is for me to be up here. I really hate crowds. My first day at team training, I was so scared. I didn't know anyone, but everyone was just so nice. When Janet introduced me to Jetty, my whole life changed at that moment. There was a calm and my anxiety wasn't so bad.
As training went on, the other clients helped me keep it together with Jetty at my feet keeping me calm. It felt like family.
After Jetty and I were a team, Patti called me and said Janet wants me to speak at graduation. I said NO multiple times, but New Horizons did give me the most incredible gift ever, JETTY. I don't know what I would do without him. He is always there. When I fall he gets my walker and brings it to me, and then he braces so I can get up. Or he grabs my phone if it's necessary. He helps with my confidence and protects me at Walmart and all of the other scary places I need to go where there's people. At the VA he is not seen, all up under a chair. I never feel alone anywhere I go. THANK YOU Janet and New Horizons for helping me and others with new beginnings.